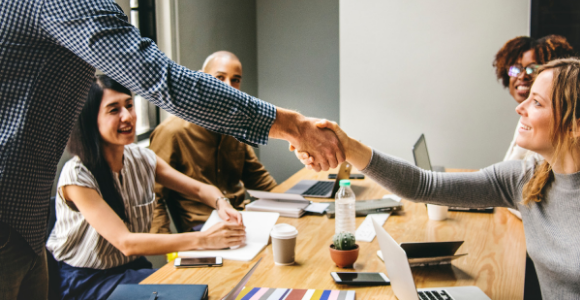 The latest data from LinkedIn has shown that the most in-demand skills for employers are increasingly including soft skills (Soft skills can be defined as personal qualities or traits that allow the individual to interact harmoniously and effectively with other people.) 
So what are the most in-demand soft skills? And how can you improve yours? 
Most in-demand soft skills 
Leadership
Communication
Collaboration
Time management
Let's take a look at these in more detail. 
Leadership 
Leading jobsite Monster.com say: "Having confidence and a clear vision can help influence your co-workers and get them on board with your ideas now and in the future." There are also practical and actionable ways in which you can improve your effectiveness as a leader: 
Listen to others' ideas and allow everyone to voice their opinion – a good leader uses the expertise of others rather than just trying to do everything themselves. It also makes others feel valued and more likely to support you

 

Be prepared to work as hard as your team and show you're unafraid to get your hands dirty

 

Take responsibility for things when they go wrong and be prepared to step-in during a crisis and make difficult decisions

 

Stand by your employees and show them you trust them

 
Communication 
It sounds straightforward, but the ability to communicate effectively is about more than just being able to speak and write. Effective communication in an organisation is the ability to express yourself and your ideas in meetings, presentations and emails in a calm, concise, respectful and engaging manner. Communication skills help you build useful relationships and rapport with your colleagues, and need to be adapted depending on the situation.   
Collaboration 
If you've got an ambition to work your way into a leadership position, being a team player is key. To be a successful manager, you need to understand what you're managing and have the ability to work efficiently and respectfully with other people who have totally different responsibilities, backgrounds, objectives and areas of expertise to you. One basic rule is to treat others how you would like to be treated. 
Time Management 
Showing time management skills exhibits good discipline and reassures a prospective employer that you are organised and will get the job done. Time management skills not only help you get more done in less time, but they also improve the quality of your work. It's also an easy skill to master. Be on time for work, be organised enough to juggle lots of tasks and be well-prepared to meet your deadlines, and you'll soon appreciate how much it impacts your working environment. 
What's more, research led by Harvard University shows that 85% of job success comes from having well-developed soft skills, so why not try and improve yours?