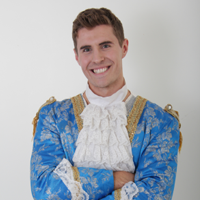 Year:
2010
Subject:
Performing Arts
The College nurtured and supported my chosen career and definitely played a significant part in my success and my future.
About Philip Atkinson
Performing Arts student returns to Lincoln for the opening of Snow White at Lincoln Drill Hall.
Philip Atkinson completed his studies in Performing Arts at Lincoln College in 2010 and has since studied at the Royal Scottish Academy where he gained a degree in Musical Theatre; he now lives in London but is returning to his roots to play the part of the Handsome Prince in Lincoln Drill Hall's Christmas pantomime, Snow White.
Read more here – https://alumni.lincolncollege.ac.uk/alumni/ex-student-takes-to-the-stage-as-prince-charming/