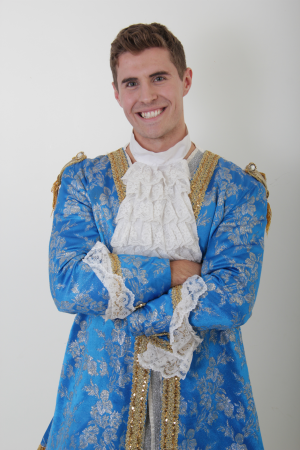 Performing Arts student returns to Lincoln for the opening of Snow White at Lincoln Drill Hall.
Philip Atkinson completed his studies in Performing Arts at Lincoln College in 2010 and has since studied at the Royal Scottish Academy where he gained a degree in Musical Theatre; he now lives in London but is returning to his roots to play the part of the Handsome Prince in Lincoln Drill Hall's Christmas pantomime, Snow White.
"Lincoln College has been a great starting point for my professional career; the course that I studied was very practical and was fantastic exposure to all aspects of performance.
"The College nurtured and supported my chosen career and definitely played a significant part in my success and my future.
"I am also grateful for the support that I received from Jamie Marcus Productions throughout my training, the close employer links that the College has really helped me and provided me with professional performance opportunities.
"Although I live in London now, I am really excited about playing the part of the Handsome Prince in Snow White; performing at Lincoln's Drill Hall is a great chance for me to return to my Lincolnshire roots.
"I would encourage any current Performing Arts students to get out there and gain experience, by keeping active and surrounding yourself with performance, you can really help your future opportunities.
"Once Snow White closes in January I plan on heading to Canada to explore work in film and television out there; I look forward to maintaining my links with Lincoln – and the College in particular – in the future."