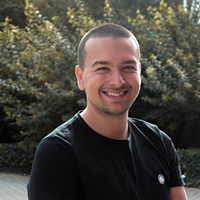 Subject:
Creative Media Production
I spent 3 years at the college, developing my passion for film creation and editing; I was given incredible support and guidance by my tutors.
About Harry Kumar
Ex-Student Harry Kumar studied Creative Media Production at Newark College and has since gone on to produce over 100 promotional videos; he has big plans for the future!
Talking about his time studying at Newark College, Harry said:
"I left school at 16 with no idea of what I wanted to do as a career; I worked as a gardener for about 14 months before I decided it wasn't right for me.
Read more here – https://alumni.lincolncollege.ac.uk/alumni/newark-college-student-enjoys-film-career/