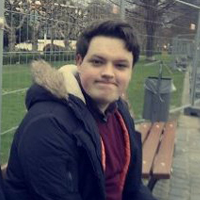 Subject:
Production Arts
"My time at Lincoln College definitely helped me get where I am today. Without college I would not have got as far at university as I have already"
About Ashley Ball
Ashley Ball studied Production Arts at Lincoln College before progressing to Backstage Academy, where he is taking a BA (Hons) in Live Visual Design and Production.
Here's what he had to say about his time at Lincoln College, being part of a multi-million-pound project and life at university.
"My time at Lincoln College definitely helped me get where I am today," said Ashley. "Without having the practical and real world scenarios that were delivered to us in college and being given the opportunity to work on professional shows and events, I would not have got as far at university as I have already. I think that is down to the excellent delivery of the Production Arts course at college."