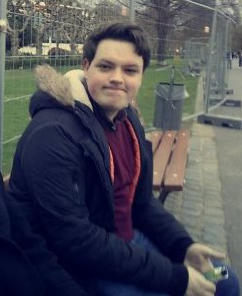 Ashley Ball studied Production Arts at Lincoln College before progressing to Backstage Academy, where he is taking a BA (Hons) in Live Visual Design and Production.
Here's what he had to say about his time at Lincoln College, being part of a multi-million-pound project and life at university.
"My time at Lincoln College definitely helped me get where I am today," said Ashley. "Without having the practical and real world scenarios that were delivered to us in college and being given the opportunity to work on professional shows and events, I would not have got as far at university as I have already. I think that is down to the excellent delivery of the Production Arts course at college."
Ashley is studying his degree at Backstage Academy, a specialist school based in West Yorkshire which provides training for the live events industry.
"The work opportunities at Backstage Academy are out of this world," said Ashley. "The high standard of skills that I have gained in the first year alone are amazing. I've had some of my work sent to Disney Imagineering as a concept idea for a new immersive roller-coaster, worked on such projects like You Say You Want A Revolution at the Victoria & Albert Museum, and designed the content and technical workflow for the 2017 World Future Energy Expo in Kazakhstan."
"The greatest challenge I've faced since starting university has been working on a multi-million-pound project and having responsibilities on site that are usually unheard of for someone of my age."
It's all valuable experience, and Ashley has taken it in his stride. He's already thinking about his plans after graduation.
"After university, I want to have my own consulting and design company for creative video technologies in the Live Events sector," he said. "Or to work for a similar company as a Creative Director. I see myself working on some of the most ground-breaking and visually impressive shows in Europe."
Finally, we asked Ashley if he had any advice for fellow alumni of Lincoln College who are thinking about going to university: "Don't just go to university because you feel you have to, go because you are passionate about the career or subject area you want to pursue," he said.