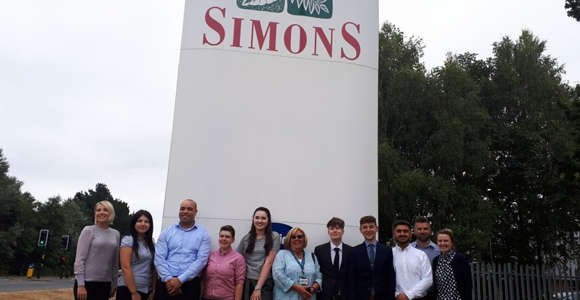 More than 25 students were put through their paces at a three-day workshop to compete for a place on the company's unique construction apprenticeship programme.
Eight apprentices were signed up to the two-year Level 3 Diploma in Construction in the Built Environment.
There had been overwhelming interest from applicants keen to join the property solutions business and gain an industry-relevant qualification, whilst earning a salary.
Yvonne Day, Interim Head of Human Resources at Simons said: "It's fantastic to see such a diverse group interested in our industry.
"We hope all of the students who came along enjoyed their time with us – we tried to give them all an opportunity to shine.
"Candidates obtained an insight into Simons along with group interaction, when their problem-solving skills were put to the test.
"As a local business, we're delighted to work with Lincoln College and are really looking forward to welcoming our new apprentices to Simons Group in September."
Donna Moorhouse, Head of Recruitment and Sales at Lincoln College said: "We are thrilled to have supported Simons in the search for apprentices.
"This innovative new approach to recruiting students is completely employer-led and has been tailored to meet the needs of the business."
If you are an employer who would like to work with us to find the right apprentices please contact employers@lincolncollege.ac.uk or call 0845 270 7227.
Are you interested in applying for an apprenticeship through Lincoln College? You can search our current apprenticeship opportunities or email apprenticeships@lincolncollege.ac.uk