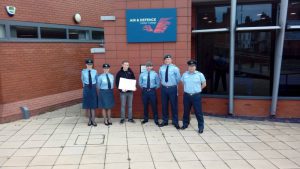 Kieron Davies becomes the first A&DCC student to be recruited into the RAF.
The first of many Air and Defence Career College (A&DCC) students has been recruited into the RAF.
RAF Officers and Armed Forces Careers staff presented Kieron Davies with his official enlistment papers.
Kieron said: "The Air and Defence Career College has given me a route straight to the exciting career I wanted. It's given me the confidence and leadership skills to pass the tests first time and get straight in – I'm just so happy."
Course leader Richard Thornhill MBE said: "Kieron has shown himself to be an exemplary student and should be very proud of what he has achieved. We wish him all success.
"The purpose of the A&DCC is to be led by employers to produce highly skilled and productive young people, ready to enter the Royal Air Force and the wider aerospace industry.
"We are constantly exposing our students to industry environments and challenges and measuring their readiness to enter these industries. We are extremely confident that a very high percentage of our students will leave the College and go straight into the career of their choice."
Kieron will be joining the RAF on the August 30, 2017 after completing his ten week basic training programme at RAF Halton. He will then complete his L3 Advanced Apprenticeship as an Aircraft Maintenance Mechanic at RAF Cosford.
To find out more about the A&DCC, or to apply now visit the Air & Defence Careers College website.
Or call: 030 030 32435.