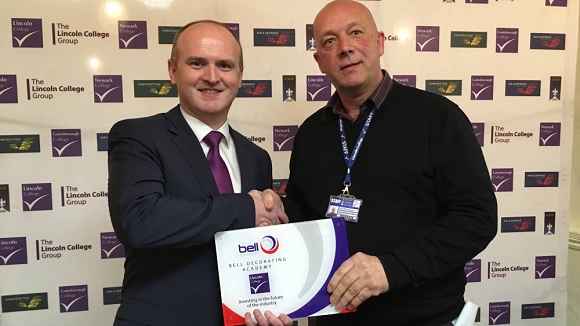 One of the country's largest painting and decorating contractors has opened an academy in partnership with Lincoln College Group.
Bell Group opened its fifth decorating academy in the UK at Lincoln College this week. Aimed at creating a centre of excellence, it will enhance existing courses and give students the hands-on experience they need to succeed in the industry.
Employability skills will be taught hand-in-hand with the latest professional techniques to Lincoln and Newark College students. The Bell Group will also offer work experience placements and apprenticeships to the best students.
This opening comes just one week after Dulux cut the ribbon on its academy – also based at the College.
Bell Group Chief Executive Craig Bell said:  "Our partnership with Lincoln College will help create a bridge between learning and theory.
"We support the Painting and Decorating students to gain valuable knowledge, fantastic work experience placements and first choice on Bell Group apprenticeships.
"By working together I hope that we can enhance the skills and fill the predicted training gaps in the national workforce."
Molly,  a painting and decorating student said "I am currently looking for an apprenticeship and this partnership with Bell Group is a chance to have a one-to-one connection with my potential future employer.
"I can take what I have heard today about employability skills and use this to secure an apprenticeship."
Matt Butcher, Supervisor at Bell Group and former Level 3 Lincoln College student said "In my experience as a former student, this 'open door' to a national organisation offers great opportunities."
If you are interested in a career in Painting and Decorating and want to benefit from the Bell Academy training as part of one of our courses, contact us via email enquiries@lincolncollege.ac.uk, or call 030 030 32435.