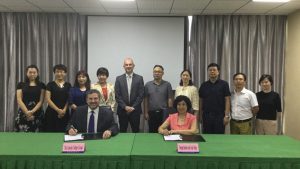 A new contract in China will enable Lincoln College Group to continue to invest in excellent outcomes for learners in Lincolnshire and Nottinghamshire.
LCG has just signed and eight-year contract with Chengdu Industry and Trade College to deliver joint Higher Diplomas in International Business. The first intake of around 100 students will begin their studies from September 2018.
This addition to LCG's export business will provide continued investment in education and training in Lincolnshire and Nottinghamshire, which is generating excellent academic results.
In the last couple of weeks Lincoln College has achieved a 100 per cent pass rate across all of its A-level courses and a seven per cent increase in GCSE Maths and English pass rates, with an 18 per cent rise in higher grades.
These results followed Lincoln College's Career Degrees, which have Teaching and Excellence Framework Silver Status, achieving the highest National Student Survey satisfaction rates in Greater Lincolnshire at 94 per cent. Career degree employability rates have also risen to 97 per cent and average earnings just six months after graduation have risen to £24,400.
LCG CEO Gary Headland said the Group's growing export business was enabling improved outcomes for students in Lincolnshire and Nottinghamshire.
"We are delighted to be expanding our work in China to incorporate a joint programme with the Chengdu Industry and Trade College. At home and abroad we apply our mission of creating a highly skilled and productive local workforce for employers and we will be working hard to ensure this programme reflects the needs of regional firms in China," he said.
"Crucially, additional income generated overseas enables investment in education and training here and it is having a tangible and significant impact on outcomes for our students. Our recent results across further education, A-levels and higher education demonstrate we are improving literacy and numeracy, a key requirement of employers, and improving the career prospects of our students."
This new contract represents LCG's  third partnership programme in the Sichuan province China. The Groups has been running joint programmes with Sichuan College of Architectural Technology for Construction and Chengdu Polytechnic for Accounting for a number of years to more than 1,000  students in the region.