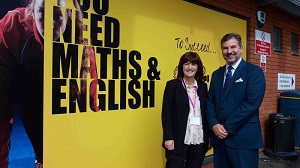 Last week former Lincoln College Student and Lincoln MP Karen Lee returned to her old stomping ground on an official visit.
Ms Lee, who studied an Advanced GNVQ in Health and Social Care at Lincoln College in 1998, took a trip down memory lane, touring the College and chatting to students.
Ms Lee pledged to support Lincoln College Group's mission to respond to the needs of local employers, to act as an advocate for the importance of literacy and numeracy skills and to champion the benefits of apprenticeship training to her constituents and Lincoln businesses.
She also met college students for a dynamic discussion on various community matters, her Parliament work and on democracy as a cornerstone of British values ahead of student union elections this year.
Ms Lee, who worked part-time at Tesco while she studied for the qualifications that enabled her to become a nurse, said it was wonderful to return to a place that held so many happy memories for her.
Ms Lee said: "Lincoln College is dear to my heart as it enabled me to get the qualifications I needed to become a nurse. The College is a wonderful place to learn and offers real opportunities for career development. I'm really proud to have been a student at the College and for what the College does for Lincoln."
Ms Lee also said she was delighted with the recent academic results of the College.
Lincoln College achieved a 100 per cent pass rate across all A-Level courses this year, a 7 per cent increase in GCSE Maths and English pass rates and an 18 per cent increase in higher grades.
This success was emulated by Lincoln College's Career Degree programmes, which were recently awarded Teaching Excellence Framework Silver Status. The National Student Survey found student satisfaction rates were the highest in Greater Lincolnshire at 94 per cent, employability rates for the College's graduates rose to 97 per cent and average earnings just 6 months after graduation rose to £24,500.
CEO Gary Headland said he was delighted to host Ms Lee and was really appreciative of the time she took to interact with college students.
"There is nothing more inspiring for our students than to talk to someone who has walked in their shoes and made a great success of their career," he said.
"It was heart-warming to see Karen share her experiences with our students, giving them advice on how to progress their careers. Karen is also strong example of a democratic outlook, a cornerstone of British values, which we try hard to encourage in our students.