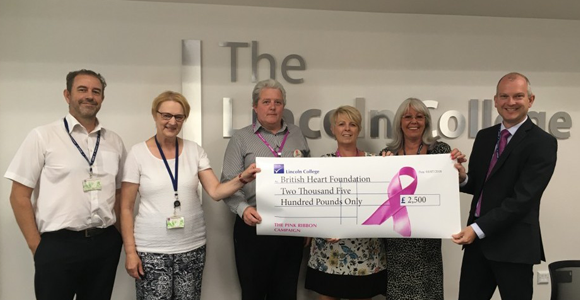 Lincoln College Group officially handed over cheques to local charities which takes the college's Pink Ribbon Campaign total to £76,000.
The internal staff initiative that was originally set up in 2006 following a college staff members breast cancer diagnosis has continued to grow with many local charities benefitting from fund raising.
Cheques were presented to Candles for £5,000, British Polio Fellowship for £2,000, Macmillan Merry Macs for £2,500 and £2,500 was accepted by Karen Curtis from the Lincoln based British Heart Foundation charity shop.
Mick Harper of British Polio Fellowship said: "The donation received today will help us provide wheelchair accessible transport to our members for our summer trip and in supporting our future fund raising events."
Fiona Goldsby, Chair of Merry Macs of Lincoln said: "Thank you Lincoln College from the bottom of my heart.
"This donation will go to people in Lincolnshire to support people in local communities, something I feel very passionately about."
Professor Eremin said on behalf of Candles: "Thank you to Lincoln College for their continued support, we are incredibly grateful to all those involved.
"Cancer remains a major problem with one in two of us having a cancer diagnosis in our lifetime, and although treatments are improving and our research is advancing, we have many challenges ahead."
James Foster, Managing Director for Lincoln College Group said: "We are hugely proud of the Pink Ribbon Campaign and the longstanding efforts of our staff to raise monies to support a wide range of local charities.
"It is fantastic to see the impact that the college's donations are making to the lives of local people."
If you would like to support any of these local charities you can find information on their websites or contact Sarah Adams at Lincoln College on 01522 876000.
The British Polio Fellowship are holding an evening of music with Sally Glennon on Friday 20 July, 2018 at the Life Church, Lincoln. For more information please call 01673 844214.