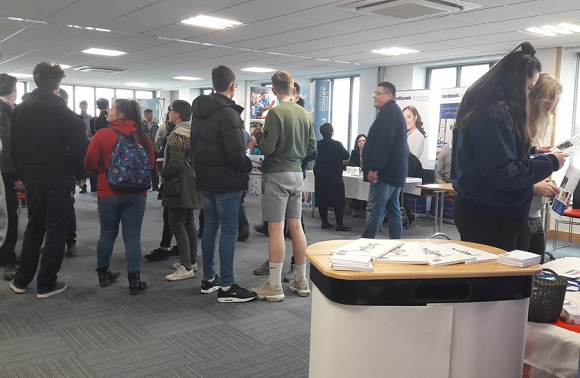 The College invited local businesses, students and the public to take part in the recruitment event.
Businesses from the local area joined Lincoln College at their recruitment fair as part of National Apprenticeship Week.
The event was designed to inspire students and show them the benefits of undertaking an apprenticeship.
Darren Pulfrey, Branch Manager at local business Bell Group in Newark said "This is a fantastic event to help inspire and involve young people to get involved in various apprenticeships.
"There is a real shortfall of apprentices in the construction industry. It was also great to see some female students interested in our business.
"This event has allowed us to reach out and engage with potential apprentices and talk to them about what we do."
Carpentry and Joinery student Jess Melton said: "These events are really good as you get to see the range of other trades available as career pathways to you – it opens your eyes to other options."
Melanie Kane, also a Carpentry and Joinery student said: "I'm now at the age where I'm wanting to further my career – an apprenticeship would be perfect for me as I really like the idea of earning while learning."
"This event has really opened my eyes up not only to the range of apprenticeships available, but also the benefits of doing one."
If you're interested in finding out more about apprenticeships you can find out more here.