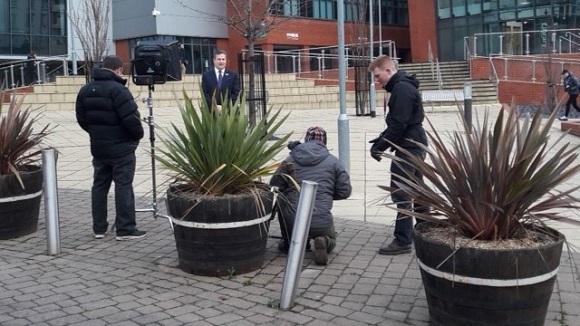 Lincoln College Group CEO Gary Headland, who is also a Midlands Export Champion, shares his export experience and the benefits of working overseas during an interview, which will appear when businesses search for exporting advice online.
A film crew working for the Department of International Trade (DIT) visited Lincoln College to shoot an online promotional video with the College's CEO.
Mr Headland said: "I was delighted to support this DIT campaign to promote exporting education.
"Our strategy of generating additional income through exporting to invest in our colleges in Lincolnshire and Nottinghamshire is a model that many colleges and universities are looking to develop.
"Hopefully our experiences of both the benefits and the risks of exporting can assist others in the education sector and beyond.
"For us, exporting is much more than just income generation. DIT evidence shows organisations that export are more innovative, productive and resilient. Innovation is of particular relevance to us and we are increasingly seeing the sharing or resources, expertise and capacity across our UK and offshore operations.
"A great example of this is how we are using technology to link engineering training between our Lincoln and Riyadh Colleges, something we are looking to develop further in the near future."
Lincoln College Group's Business Transformation team can advise businesses on mobilising export capability.
To find out more call our employer hotline on: 0845 270 7227