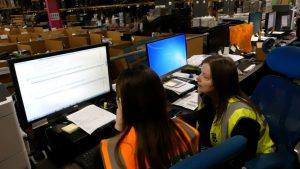 Lincoln College Group has secured a contract to train staff for Europe's leading specialist electrical and telecommunications retailer and services company.
LCG won the apprenticeship levy contract to provide training for FTSE-250 Dixons Carphone following a competitive tender process against several regional and national training providers.
And the announcement represents hundreds of new career opportunities in Newark and the surrounding area over the next five years.
This development cements LCG's relationship with Knowhow, which has developed over the last decade and saw the opening of the Knowhow IT Training Suite at Newark College last year.
The contract means LCG will be recruiting and training warehousing operatives, team leaders and more senior managers for the firm.
LCG CEO Gary Headland said: "This is a really significant step in our relationship with Dixons Carphone. We have been working with Knowhow for some time now and our efforts to shape our training to meet the firm's business needs is obviously working.
"Our mission as a group is to be led by employers in creating bespoke training to produce highly skilled and productive employees, who have an understanding of our business partners' mission and culture.
"We also work hard to ensure our apprentices have the literacy, numeracy, communication and leadership skills required to not just get a job, but to build a lasting and fruitful career, something I know Dixons Carphone are passionate about.
"We look forward to advertising new vacancies in the Newark area over the next couple of weeks. These apprenticeships represent great career opportunities with a thriving firm that believes in investing in its people."
Steve Gibb, Director for Home Services and Logistics said: "We are passionate about developing people and are excited by our new apprenticeship programme. This programme will enable us to develop new talent through our warehousing teams to become managers of the future.
"We are delighted to be working with Lincoln College Group's Newark Campus on delivering this programme"
Lincoln College Group offers free training needs analysis and workforce planning consultancy to its levy paying business partners. Our training specialists will advise you on how to maximise your digital credits and help you recruit high-quality apprentices.
To find our more call our team on: 0845 270 7227
Email: employers@lincolncollege.ac.uk
To find out more about our business training services visit: www.lincolncollege.ac.uk/employers