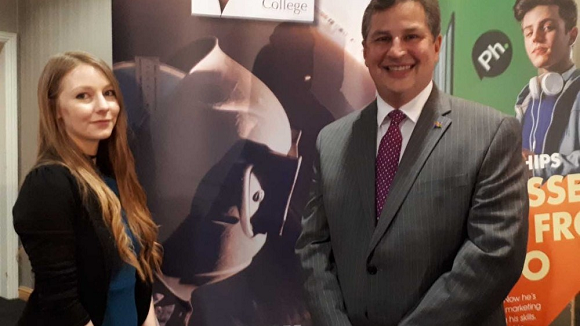 Former apprentice Lucy Blackwell joined Lincoln College CEO Gary Headland to inform and inspire employers to harness the business growth potential of apprenticeships.
Both were part of a Question Time-style expert panel at the Apprenticeship Workshop at Showroom last night. The event, hosted by the East Midlands Apprenticeship Network in conjunction with Lincoln MP Karen Lee, was designed to educate employers on the benefits of apprenticeship training.
Lucy, who is currently working in Young Adults Social Services at Sheffield City Council, networked with employers, sharing her training and career story.
She said apprenticeship training had transformed her outlook on her career and her life.
"My apprenticeship with Lincoln College gave me the support and underpinning knowledge I needed to thrive," she said.
"I am now looking to develop myself further and my apprenticeship taught me there are no restrictions to what is possible.
"Apprenticeships are great for anyone looking to build their confidence, learn about industry in industry and for those looking to securing a great career."
More than 30 local businesses across many sectors attended the event and fired questions at the expert panel.
Mr Headland said: "This was a great opportunity to give local business leaders real clarity on recent changes like the introduction of the Apprenticeship Levy.
"It is obvious there is still a lack of understanding around the fact that apprenticeship training is for everyone, that means all of your current workforce, including senior leaders in your organisation.
"Apprenticeships have always been great for new recruits, but businesses are only just realising that training providers like ourselves can also put their senior managers through degree apprenticeships in leadership and management – adding significant strategic value.
"Business leaders are also seeing that by partnering with providers like ourselves they can access a wealth of additional services like; workforce planning consultancy, free online courses for their staff and short technical courses that help with compliance issues.
"It was a great event and I'd like to thank our former apprentice, Lucy for inspiring so many local business people, along with another former Lincoln College student and great supporter, MP Karen Lee, for her work to help promote apprenticeships."
Find out more on how apprenticeships can benefit your business or how your staff can access more than 20 fully funded online courses
If you would like to apply for one of our apprenticeships you can browse our apprenticeship vacancies or email apprenticeships@lincolncollege.ac.uk or call: 030 030 32435.