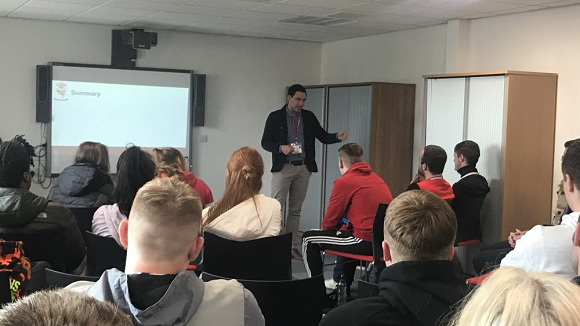 Liam Scully spoke to students on how he made his way to the top from an apprentice to CEO of a flourishing football club.
Liam visited the College to give a presentation as part of their 'Pay it Forward' scheme.
The scheme allows staff and guest speakers from across Lincoln, Newark and Gainsborough campuses to engage with learners and share vocational knowledge, expertise or experiences that will support students' career and life aspirations.
The CEO delivered a motivating and inspiring talk, discussing his journey through education to being the youngest chief executive in the Football League at age 26.
Liam said: "I'm really fortunate I've met some very inspirational people along the way that have helped get me to where I am today.
"I wanted to give this experience back and inspire young people in the same way I was inspired.
After discussing his background, Liam then went on to deliver a presentation on his theory to success and offered the students advice. He said: "The ability to wake up every day and be motivated to work is important.
"Planning is also important, especially among the millennial generation and where technology is constantly growing and everything is available at our disposal.
"No matter what job role I got given, I always did it to the best of my ability and applied myself."
Liam made his presentation extremely relatable to the students and showed them that anything is possible if you apply yourself and follow some key objectives.
Level 3 Business student Kat Parker said "I found Liam's talk interesting, it was nice for him to delve into his philosophy and how he's been able to get to that point in his career.
"I'm admittedly not a football fan so was slightly sceptical about if anything he had to say would resonate, but it did and it was definitely eye-opening and changed my perspective on certain things for both me and my classmates."
Head of Sport and Service Sector at Lincoln College, Stuart Reddington said: "It's absolutely fantastic that Liam has committed to sharing his experiences at such a busy time for the Club.
"Our students will benefit hugely from listening to Liam's story.
"His award winning rise to CEO of Lincoln City FC is truly inspiring – it will be a session that our students will remember for years to come.
"Liam has been first class in the build-up to this event, where nothing has been too much trouble.
"We are really lucky to have such strong relationships within our community that our students can really benefit from."
Want to know more about our range of sports courses? You can find out more here.