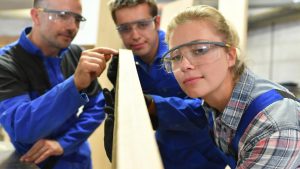 Hire an apprentice before May when new reforms come in and you'll avoid the 10 per cent cash contribution the Government is introducing.
After May firms with a wage bill under £3m will co-invest 10 per cent of the cost of apprenticeships, with the Government covering the rest. So there's a window of opportunity before the changes come in.
Apprenticeship training isn't just for young new recruits – it's a cost effective way of developing your existing staff, or hiring more experienced and confident older people who want a change of career.
If they're between 19 and 24 you'll also get a £1,500 grant* to help you with the costs.
Our account managers will carry out training needs analysis and workforce planning consultancy for you free of charge.
And we'll advertise and recruit to your vacancies for you.
We are also now in a position to utilise government funding to offer free English, Maths and ICT training for any of your workforce, who are over the age of 19 (subject to eligibility criteria).
Find out more at www.lincolncollege.ac.uk/employers or call 0845 270 7227