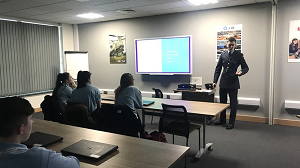 Edward Campion came in to visit current Air & Defence Career College students to chat with them about life in the RAF.
Ed went through the Basic Training process step-by-step with the students, offering an honest and engaging advice on life in the Royal Air Force.
He said: "It wasn't hard to adapt when I arrived as the skills I learnt in my time at the Air & Defence Career College made sure I was very prepared for the reality of RAF training.
"It made my experience much easier and enjoyable."
The former student also spoke inspiringly to current students about his graduation: "Graduating was the most amazing feeling and made all of the training I underwent, both at the College and the RAF, worth it.
"It was so emotional but also the best feeling in the world!"
Currently an Aircraftman at RAF St Athan, Ed will soon be going on to become a Leading Aircraftman. On completion of his Phase Two Training in six months' time, he will be posted to RAF Wittering as a Senior Aircraftman.
Learning and Skills Lead, Richard Thornhill MBE said of Ed's success "It was great to have Ed return to the A&DCC today to give a presentation on his experiences in the RAF. I was amazed by the changes in his confidence and bearing when he engaged with this year's students. It was very pleasing to hear him relay the benefits of the A&DCC course and how that impacted positively during his Basic Training.
"What a difference a few months can make and the experience of completing his Basic Training."
If Ed's story has inspired you, you can find out more about our Air & Defence Career College here.