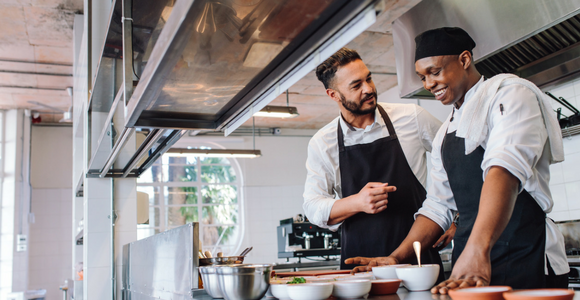 Have you already got your qualification and want to know what you can do with it? Or are you just starting out and are ready to be inspired by the opportunities available in this exciting, varied and fast-paced industry? Read on to find out more.
The hospitality and catering industry covers hotels, restaurants, pubs, events, weddings, health spas, holiday resorts and everything in between. You could find yourself…
Crafting chocolate and confectionary
Managing a fine dining restaurant
As a head chef on a luxury cruise ship
Mixing cocktails at a trendy bar
Being a concierge at an exotic holiday resort
Managing the catering for a wedding
Sourcing ingredients for a restaurant menu
Being the Director of Marketing for a chain of busy pubs
Owning your own restaurant
Training to be a sommelier for a fancy wine merchants
As Head of Housekeeping for a world famous hotel
Brewing craft beers for a micro brewery
Styling food for magazine editorials
Pouring the perfect coffee as a barista in a busy high street coffee house or hipster hangout
And many other exciting opportunities
What's it like working in the hospitality and catering industry?
Working hours – the nature of the hospitality and catering industry means you are likely to be working irregular hours with busy shifts, especially over public holidays and weekends. However, it can be exciting and many people in the industry thrive in the fast-paced environment.
Customer-focussed – the hospitality and catering industry is all about creating a positive experience for your customers, whether they be diners in a restaurant, hotel guests, a couple planning their wedding or the after-work drinking crowd.
What qualifications do I need?
We offer the following hospitality and catering qualifications at Lincoln College:
Advanced Apprenticeship in Catering & Professional Chefs Level 3
Diploma Food & Beverage Service Supervision Level 3
Apprenticeship in Hospitality Front of House Level 2
NVQ Diploma in Food Production and Cooking, Level 2
Once you've chosen which area you want to specialise in, there are many routes you can take to your dream job, whether it is further education, in-house training, apprenticeships or simply working your way up through the industry.
The benefits of working in hospitality and catering
You can take your skills and work around the world
You could enjoy flexible working hours
Many jobs offer responsibility early on
It can be easy to move between jobs and niches within the industry
You get to make people happy