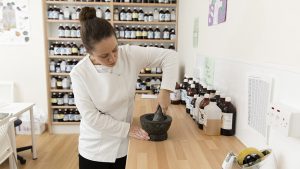 The college's provision, which includes more than 25 degree-level courses, has been graded as Teaching Excellence Framework (TEF) Silver standard.
The TEF Panel praised the College for its "excellent student outcomes", the "very high proportion of students progressing to employment and further study" and for the, "high numbers of students from disadvantaged backgrounds progressing to highly skilled employment".
The panel also noted, "small class sizes with good levels of contact time with experienced tutors" as of significant benefit to students.
Lincoln College Group CEO Gary Headland said: "The silver rating is a resounding endorsement of our Career Degree programme, which reflects our mission to be employer-led, building a highly skilled, productive local workforce.
"Our Career Degrees, which include bursaries to supplement degrees with extra industry qualifications, are designed to put our students ahead of the game in terms of entering and rapidly progressing in lucrative and secure careers.
"Our graduate employability rates, which are currently at 96 per cent, reflect the fact that we listen to employers' needs and build our programmes to meet them."
Madeleine Atkins, Chief Executive of the Higher Education Funding Council for England, said: "Students invest significant amounts of time and money in their higher education. They rightly expect a high-quality learning experience and outcomes that reflect their potential.
"The UK already has a high bar for quality and standards, which all universities and colleges must meet. But the TEF judges excellence above and beyond this, clearly showing the highest levels across the sector.
"The TEF measures the things that students themselves say they care about: high-quality, engaged teaching and a supportive, stimulating learning environment which equips them with the knowledge and skills they need to achieve their potential, and then to progress to a good job or further study."
Find out more about Career Degrees