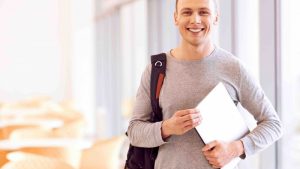 The National Student Survey (NSS) shows Lincoln College Career Degrees have the highest student satisfaction rates of any higher education provider in Lincolnshire.
Of students surveyed, 94 per cent said they had high levels of satisfaction with their course, their tutors and the level of engagement they received.
This score is seven points higher than any other higher education provider in Lincolnshire and almost 10 points higher than the regional average.
These results come on the back of recent data showing 97 per cent of Lincoln College Career Degree graduates are employed or in further study six months later and their average earnings at that point are £24,500.
The Teaching Excellence Framework also awarded Career Degrees a Silver rating and praised the College's work to ensure students gain the skills employers need.
Managing Director of Education and Training Mark Locking said: "These survey results, combined with our TEF grade and recent employability and earnings results really demonstrate the value of Lincoln College Career Degrees.
"Students have to make a serious financial investment when they commit to degree-level study and rightly expect to see a tangible return on that investment. They want to receive a high level of service and they want to leave with a package of qualifications and experience that enables them to swiftly enter and built on their career of choice.
"We have been led by employers in the creation of Career Degrees, that not only provide our graduates with a degree certificate, but a whole raft of industry qualifications funded through our career bursaries. This puts our graduates ahead of the game in interview and sets them up for rapid career progression."
It is not too late to secure place to start one of our Career Degree Programmes in September.