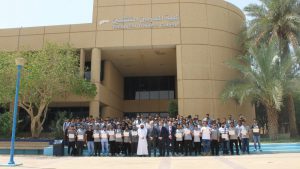 Lincoln College Group (LCG) has secured a £58m contract to run a higher education applied engineering college in Saudi Arabia.
The new three-year deal will enable additional development of the Group's employer-focused education and training in Saudi Arabia and at its UK campuses in Lincolnshire and Nottinghamshire.
This will support LCG's strategic goal of achieving excellence in education and training and producing a highly skilled and productive workforce for businesses at home and abroad to grow and flourish.
LCG secured the contract to run the Applied Engineering College (AEC), formerly known as the Technical Trainers College (TTC), after bidding against several international college and university groups.
The Group is currently running the TTC, which has educated around 1,400 mechanical and communications technology teachers in Riyadh, at Bachelors degree level, for the last year. This complements the Group's existing female college at Qatief which has 2,000 students.
This new three-year deal will enable LCG to build on its success in Riyadh, overseeing a re-brand of the College and achieving even greater alignment to the needs of employers in the region.
LCG CEO and Midlands Engine Export Champion Gary Headland said this was a significant milestone in the 130-year history of Lincoln College and the wider Group.
"I am often asked about why we have chosen to export education to Saudi Arabia and China" he said.
"In the words of the Department of Industry and Trade, businesses that trade internationally are on average 34 per cent more productive, 75 per cent more innovative, undertake three-times as much research and development and are in general terms more resilient than businesses that do not trade.
"Winning this bid, which represents a huge amount of work from our team, reaffirms the importance of our mission. In Lincolnshire, Nottinghamshire, Saudi and China, we are listening to employers and building training programmes to meet their needs."
LCG's dedication to this approach was further demonstrated by our announcement last week of a major apprenticeship levy contract with Dixons Carphone, a strategically important company.
Mr Headland, who also chairs the Greater Lincolnshire Branch of the Institute of Directors, said the Group's work adds recognised social and economic value in Lincolnshire, Nottinghamshire and Saudi Arabia.
"We are proud to be contributing towards the achievement of Saudi Vision 2030 by working with the Colleges of Excellence (CoE) to produce a highly skilled and productive engineering workforce, while also benefiting our Colleges in the UK," he said.
"We were very pleased that the quality of the bid was recognised by the Chief Executive of the CoE who said, 'We sincerely appreciated the energy you and your team have invested in your proposal and would like to commend you on its outstanding quality.'"