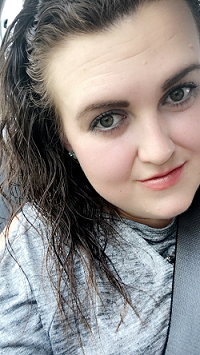 studied Health and Social Care BTEC Level 3 at Lincoln College. As a result, our former learner was offered a place on the BHSc (Hons) Occupational Therapy programme at York St John University.
Victoria took the time out of her busy schedule to talk to our Alumni Team about how her time at Lincoln College helped her succeed in her ambitions, her life at university and how it compares to college study, and to give her advice to others hoping to progress to university.
Victoria's experiences of Lincoln College
"My time at college really helped me get into university, and has helped me during my time here too," said Victoria. "The amount of help I received around applying to university was amazing and I am forever grateful to my college tutors for that. I also feel that the number of assignments I had to carry out at college helped me with my assignments here at university and being able to meet deadlines in a timely manner. It has been a challenge getting used to the change of writing styles required for my course and the different assignment expectations, but my college course has helped me get there."
Life at university
"The highlights of university so far for me have been meeting new, lifelong friends," said Victoria. "Also, I am studying a topic I am passionate about.
She also had some valuable advice to share. "Take your time when choosing your subjects and applying for university," said Victoria. "Ask for as much support as you need from your tutors! They are more than happy to help and it will benefit you greatly.
"My goal once I have finished my BHSc (Hons) in Occupational Therapy at university is to go into a mixed rotation position for a year as an Occupational Therapist to allow me to get a huge range of experience in different settings. Then hopefully I will specialise in Paediatric Occupational Therapy," she said of her future plans.
Victoria added: "In five years' time I would like to see myself settled in a full time job which I love, supported by my family and friends.