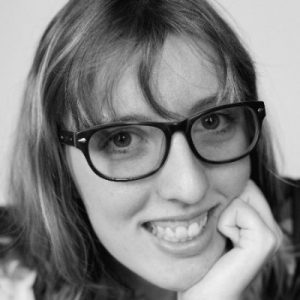 "I don't see my autism as a disability – I see it as a gift," said Sian. "Seeing the world from a different perspective, you can achieve things in life with the right help, support and understanding.
Former student, Sian Hutchings, has many strings to her bow. As well as travelling the country speaking publicly about her experiences of autism and ADHD to spread awareness and understanding, she is also a freelance photographer and trained in business, retail, creative media production and graphic design.
She spoke to our Alumni Team about the many courses she has taken at Lincoln College, living with ADHD, autism, dyslexia and dyspraxia, and finding her passion for photography.
Finding her passion for photography
As a lifelong learner, Sian has taken many courses at Lincoln College.
"I didn't know what I wanted to do with my career when I officially left school at 16 ," said Sian. "I had attended St Christopher's School in Lincoln, which was a school for moderate to severe learning difficulties, including autism.
"I started at Lincoln College in September 2009 and I was originally studying a retail course for two years. It helped me to speak to customers and improve my money skills, teamwork, and my confidence working with other students. I also learnt how to run a small business in the college shop, where I sold fair trade products to staff and students.
"After this I went on to the Business Level 1 course and this helped me further with my employability skills. I learned about employee rights and responsibilities, how to make a phone call to other organisations confidently, and how to design business documents, how to write a business plan for self-employment, and also interview skills.
"Next I studied an IT Level 1 Diploma, which helped me develop my technical skills in web design, graphic design and multimedia.
"I then went onto study a Creative Media Production and Technology course, which I loved," said Sian. "I learned about film making, and made an animated video of the story about autism, "The Curious Incident of the Dog in the Night-time,' which was fantastic. I also learned marketing and advertising, and how to reach certain audiences in the creative industries."
Sian then finally discovered her passion for photography when she took her next course at Lincoln College.
"It was what I was most good at," she said. "I loved all aspects of the course, such as creating a pinhole camera, light-painting photography, learning about British photography and the history of photography.
"I studied all my courses with motivation and self-commitment until I found something I was really good at in my early twenties. I was offered work experience with St Barnabas Hospice as an Events Photographer and I'm still doing it a year on.
"I've been photographing various fundraising events such as the 'It's a Knockout' event, a charity ball at a hotel, ladies' lunches, a Christmas craft fair, etc. Some of my work has been featured in the Lincoln Journal, which I'm very proud of."
Speaking publicly about Autism and ADHD
Sian set up 'Sian Speaks' to "talk about [her] lived experiences of Autism and ADHD, such as education and coping strategies.
"I have spoken to various support groups, students and staff in schools, colleges, and universities, and at National Autistic Society branches," she said.
"My time at Lincoln College helped me a lot and I had support in place throughout my time there when I was experiencing challenges because of my disabilities such as autism, ADHD, Dyslexia and Dyspraxia.
"My skills that I learned at Lincoln College such as time management, being organised, team work, communication skills, confidence and motivation led to me being awarded the rising star accolade after completing my studies. I was very proud of this and enjoyed the ceremony. That day will always stay with me forever."
"If you put your mind into it, the possibilities are endless. There are no excuses, so make a success of yourself, go out there and thrive," she said.