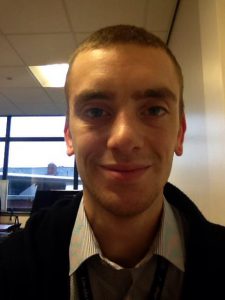 Lincoln College Student Union President, Richard Arbon, spoke to our Alumni Team about life at college, studying for his BTEC in Health and Social Care and his ultimate career goals.
"My time studying at Lincoln College definitely helped me get where I am today," said Richard. "It shaped me as a person and gave me the knowledge I needed to go further in my life.
"As Student Union President, my main responsibility in this role is to represent the voice of the students, this also includes being a representative on the board so they are aware of what the student voice is.
"I was always trying to figure out which career path to take towards my career in the healthcare industry. But when this job came about after the previous president left, a friend of mine said I should go for it.  I also thought it'd help me develop as an individual and it has.
"My communication skills have definitely been useful and Lincoln College has helped develop them further, both during my studies and now during my role as Student Union President.
"My job highlight has to be helping students and seeing how I have helped them and made them feel better."
Richard gained his BTEC Level 2 in Health and Social Care at Lincoln College, and is aiming for a full-time career in healthcare in the near future. His love of helping others, demonstrated in his current job, will stand him in good stead.
"My ultimate career goal is either to be a Paramedic or going into Nursing at a Gastroenterology department.
"I've learnt that it is important to try hard, study well and not give up. It's going to be a challenge but you can do it when you put your mind to it."