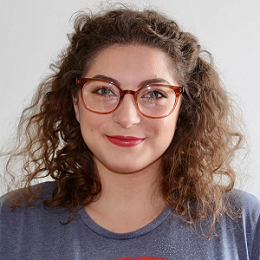 Lincoln College Media Production graduate, Rebecca Bowes, recently spoke to our Alumni team about going on to study Television Production at university, moving to London and her dreams of becoming a Television Producer.
Rebecca believes that her time studying Media Production has helped her a great deal in achieving her ambitions so far.
"There is no doubt that my time at college was a fundamental step for me, I learned so many media skills like producing, editing and storytelling but I also gained and developed a lot of interpersonal skills like patience, empathy and knowing my own strength," she said.
Now studying Television Production at university in London, Rebecca reflects on life after college and the opportunities she has been given.
"The highlight of university for me is the projects," she said. "I am currently working on a cheerleading documentary and our promos are getting so much attention and love online, it makes all the hard work worth it."
Of course, university life also comes with it's challenges, she admits.
"The greatest challenge for me at university is leaving home and moving to London alone, " said Rebecca. "I still miss home a lot but university keeps me busy and I've made so many relationships that have made London my second home.
"If you have a way into the industry already, university isn't always the best option for creatives," she advised. "However I will say that the experience of university can really make or break you and you should be sure of your choice before you go."
Rebecca also revealed her plans for after university – breaking into the television industry.
"After university, I'll be moving a bit more down south, settling down with my fiancée and beginning running jobs to gain more experience in television," she said.
"In five years, I want to have a job researching for television, as this will be the next step in my career before I am able to produce, which is the end goal for me."