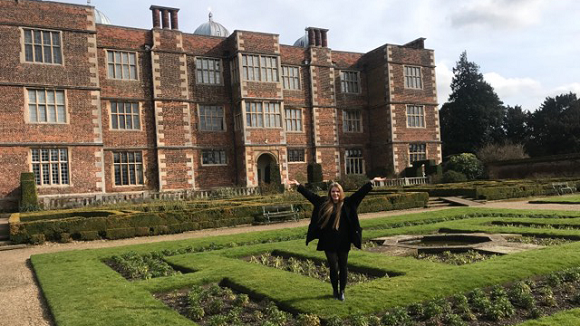 An ex-student of Lincoln College is working her way up to the top.
Alice Marshall studied the Level 3 Extended Diploma in Production Arts at Lincoln College and graduated with a distinction in July 2016.
After taking part in work experience at Doddington Hall back in March 2016, Alice was offered a full-time position as an Events Assistant and has since been offered the job of Assistant Events Manager.
Alice said: "In my last year at college, I was really interested in pursuing a career in events management. I based my final project on creating an event and really enjoyed every aspect of it, from the planning stages to setting up, to then actually run my very own event!
"While I was working on a Halloween event at Doddington Hall with my course, I spoke to the marketing manager about my future goals and she recommended that I should try for work experience here. It was during my work experience in events that I fell in love with the Hall and decided it was the place I really wanted to work.
"I loved every part of studying at Lincoln College and the Production Arts course. The opportunities we had and the creative freedom we were given when it came to projects really helped to inspire us as a group. We were really made to feel that no matter how big the idea, it was always possible!
"The support from my tutor Howell was most probably the prime factor in helping me get the job at Doddington Hall. I always had issues with my confidence and believing I was capable of doing things. Howell really encouraged me to push myself and to go for roles within the course that were a little more out my comfort zone, such as production management.
"The opportunities we had on the Production Arts course also massively helped to build my confidence and prepare me for employment. I worked on many off-site shows throughout my time at college, my particular favourite was the Lincoln Drill Hall pantomime, Snow White and the Seven Dwarves where I was the Assistant Stage Manager.
"Being able to work in professional environments and being given big responsibilities really gave me an insight to how it would be to work in the 'real world'. I thoroughly enjoyed all these experiences and really helped me to decide my future career path in events management."
Production Arts lecturer Howell Thomas said: "From the start of the course, Alice was an enthusiastic and incredibly inquisitive student – striving to develop herself and learn everything possible within the two year period.
"Dedicated and motivated, she quickly became 'a Production Arts learner'- someone who works with independence, professionalism and commitment across a wide range of projects and events.
"We are extremely proud of Alice in securing this job which was her dream job in a venue we are very closely linked to as a department. Nearly all our ex-students are now working across the industry or studying to become professionals at many of the best universities in the country – and we are proud of them all within the department.
"Congratulations Alice!"
From production arts to music and dance – if you're interested in studying a performing arts course at Lincoln College you can find out more here.