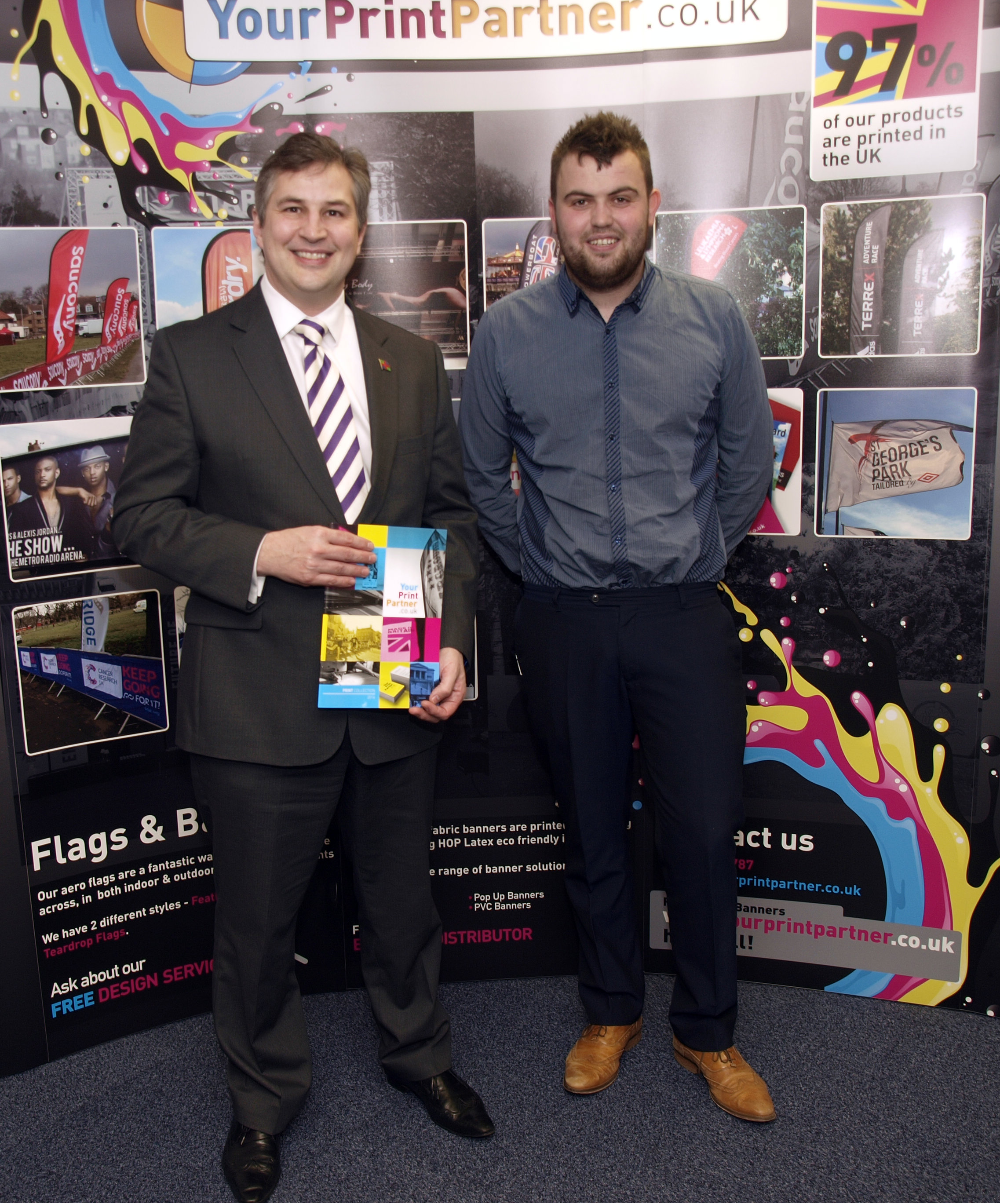 Stuart Maclaren studied Business Studies at Lincoln College and is now Managing Director of expanding local business, Your Print Partner.
Four years ago Stuart's business was starting out as a small printing operation at his kitchen table; now starting its fifth year of trading, Your Print Partner supplies a wide range of printed merchandise to an impressive client list, including big names such as Tesco, Subway, Redbull and Channel 4.
"I'm passionate about business and we've got some exciting times ahead; my mission when I started out was to bring large format print manufacture back to the UK and it's great to see the business moving forward.
"Banners that we have produced are displayed all over – including internationally – and they have been produced right here.
"I employ 21 full-time staff in Lincoln and we will soon be moving from our current premises that are around 6000 square feet to significantly larger, newly built premises nearby that will be 21,000 square feet.
"Lincoln College had a great impact on me and where I am today; I studied BTEC National in Business Studies and it really opened my eyes up to commercial business.
"Now I take on local apprentices and interns myself and I am always keen to invest locally; I go out of my way to try and source local materials, customers, clients and staff, and to me that makes business sense but I also think it is really important for Lincoln as a city."
Lincoln College Chief Executive, Gary Headland, visited Your Print Partner headquarters in Lincoln to see the work that Stuart and his team are doing; he said:
"Seeing the fantastic business that Stuart has created right here in Lincoln makes us immensely proud as a College. Our alumni go on to achieve great things and Your Print Partner is a business that is fun and exciting with some impressive projects that make it a key player locally, nationally and indeed, internationally.
"Seeing the headquarters was interesting and also a good opportunity for us to develop our relationship with a local employer whilst continuing our relationship with Stuart as a member of Lincoln College alumni.
"Reaching out to employers is incredibly important in allowing us to identify the needs of local businesses and identifying the skills that they require from their employees; as an education provider these links enable us to best equip our students with the skills that are in demand locally and help them to prepare for employment and success in the future."