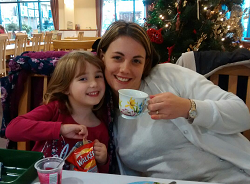 Nicola studied Learning, Teaching and Supporting in Schools at Level 2 at Lincoln College. Now a Teaching Assistant at Vision for Education, she spoke to our Alumni team about her experiences, challenges and proudest moments.
"I wasn't sure what I wanted to do for a career at first," said Nicola. "But I thought I'd do the course and gain experience and see if I enjoyed it. The course helped me to become confident in myself and helped me to develop as a person. This then encouraged me to continue my career in teaching support."
Whilst studying at Lincoln College, Nicola worked as a Nursery Assistant and then a Teaching Assistant at several local schools.
"The time I had at Lincoln College and the jobs I did alongside my studies helped me to get where I am today by giving me the insight I needed to continue working with children," said Nicola.
Nicola also told us about one of the most rewarding moments of her career so far:
"I was supporting a new teacher in a struggling school and classroom," she said. "I was able to helping the teacher to gain confidence and trust with the children so they could become better behaved within the classroom environment."
Her experiences have also given her the skills she needs to deal with the challenges that come with being a Teaching Assistant, which in turn have taken her career in a direction she never expected.
"One of the biggest challenges I've faced so far has been being in a special needs environment and supporting the teacher with these children, which I didn't have any knowledge of beforehand," she said.
However, as a result Nicola has been inspired to work in SEN (Special Educational Needs).
Nicola is now planning to gain her Level 3 Teaching Assistant qualification, "and maybe higher so I can have more confidence to do so," she said. "In five years' time I see myself teaching at Level 3 and working with SEN children."
Finally, Nicola had some advice to share with others hoping to follow a similar career path:
"Be confident in yourself," she said. "Also, try different schools before deciding if it's the right job for you. You may be surprised in what you find along the way. I didn't think I would ever work in or be able to cope with SEN but now I love it."