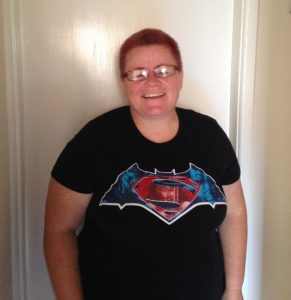 Michelle has used learning to give herself independence and confidence. She receives disability allowance and works part-time, and studying has made a huge difference to her life. She recently completed an Adult Numeracy course at Lincoln College and shared her experiences with our Alumni Team.
"During my time at college, I studied Numeracy to help me in my everyday life, such as going to the supermarket, sorting weekly bills out, etc," said Michelle. "If I hadn't studied Numeracy at Lincoln College I wouldn't be as confident when doing my grocery shopping and my weekly bills.
"I have also taught a friend Numeracy on a one-to-one basis, which I couldn't have done before. Studying at college hasn't only increased my Numeracy skills, but it has increased my confidence and my self-esteem."
"Since finishing college, I gained employment at my local church café," said Michelle. "I have continued doing online courses to further my education. I have gained a Diploma in Customer Service skills, E-health and Maths to name a few. I also studied Level 2 Literacy.
"My fondest memory of my time at Lincoln College has to be the continuing support from the tutors, their encouragement during and after class. I also have a second memory which is the friends I made, and I'm still friends with them today.
"I like studying at home as I can learn in my own time and at my own pace. I continue to study online more, as I feel it increases my skills and knowledge. I wouldn't have had the confidence to do this without my college courses.
"I am not one for thinking too far into the future, as I like to take each day as it comes and enjoy life and be grateful for the here and now," said Michelle.
Thanks for sharing your story with us, we hope to see you back at Lincoln College soon!