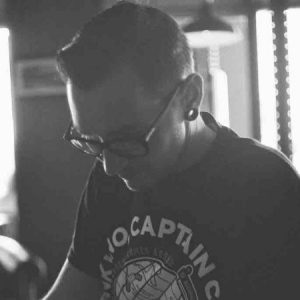 Martyn Brown is an Artwork Designer for Specsavers. After starting out doing his Art Foundation course at Lincoln College, Martyn agreed to talk to our Alumni team about his fascinating career.
Martyn didn't always know what he wanted to do for a career.
"I enjoyed art and creative hobbies outside of school but never pursued it," he said. "I worked in finance for a few years and it wasn't for me so I decided to go away to study. It was the best decision I could have made."
The Foundation Diploma in Art and Design at Lincoln College is a year-long course perfect for those who want to pursue a career in Art and Designa but are unsure about your specialism. It allows you to first try a broad range of  fields such as; painting, sculpture, ceramics, installation, textiles, fashion, graphics, printmaking, 3D, life drawing and illustration.
Then, you can narrow your interests with your newfound knowledge to a degree-based specialiam like fine art, design, contemporary crafts, visual communication, fashion and textiles, digital media or architecture.
Finally, you decide on your own final project, celebrating all of the knowledge, technical and creative skills you have developed during the course.
"The Art Foundation course then helped me secure a place at university, which led me to employment in the creative industry," said Martyn.
"After university I started a role at LRD, an independent advertising agency, as a Creative," he said. "I then started at Specsavers a couple of years later. In my current role I produce print and digital artwork for Specsavers in the Nordic region. Everything from instore posters to billboards, digital display banners to animated Facebook content.
"I have got to work on some really interesting campaigns at various points. A fun one was rebranding a local pub after a huge renovation by new owners – we did everything from the logo to the colour schemes and wall art."
Of course, life as an Artworker still comes with its challenges.
"Deadlines," said Martyn. "I've had two days to produce a 160 asset campaign based on 4 pre existing assets before."
So, what's next for Martyn?
"Ideally I'd like to become a freelance designer and have the freedom to work on a variety of projects which appeal to me,' he said.
Martyn also had some advice to share for budding designers:
"It's important as a designer to constantly work on your portfolio, that's your best asset for any interview, even if it's just personal work it shows that you work hard. Also, keep on top of the latest industry standard software – Adobe Suite, 3D modelling, and html5 animation are all good at the moment."