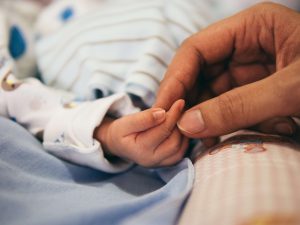 Louise Dixon took the Access to Healthcare course at Lincoln College. As a mature student, the course allowed Louise to confidently re-enter education, go to university and train to be a Midwife.  
Now successfully employed as a Midwife at United Lincolnshire Hospital, Louise spoke to our Alumni Team about her experiences of college, the highlights and challenges of her work and her advice for others hoping to follow a similar career path. 
"I always wanted to be a Midwife but didn't think I was capable of doing this until I  considered doing the Access course to bridge the gap in my learning," she said. "I couldn't have got a place at university without completing the Access course first – it gave me a good base point to start in midwifery and eased me back into mature learning." 
The Access to Healthcare course at Lincoln College helps students who are returning to education, or haven't got the qualifications they need to apply for university-level study.  They can then go on to qualify in a range of healthcare areas, such as Adult Nursing, Paediatric Nursing, Mental Health Nursing, Midwifery, Paramedic Science or Health and Social Care. Completion of the Access course allows students to gain direct entry to their chosen degree; successful students are able to gain places at UK-wide universities as well as with local providers the University of Lincoln and Bishop Grosseteste University. 
"I finished the access course in July 2014," said Louise. "I got a place at Nottingham University to start in March 2015 and qualified as a midwife in March 2018. 
"Completing the three-year training course with a young family, whilst working and completing assignments, was the biggest challenge I've faced in my career. But I've been working for 6 months now after receiving 2 job offers in Lincolnshire. I am a rotational midwife taking part in delivering antenatal, postnatal, community and labour care." 
Louise said that the proudest moment of her career was attending the midwifery graduation ceremony with her children.  
She is now looking to her next steps. 
"I am happy in my role but look forward to completing my preceptorship package and moving up a band," she said. "In five years' time I want to be more confident in my abilities supporting new student midwives coming through into the profession and giving women safe and exceptional care." 
Finally, Louise had some advice to share for others hoping to work in her industry: "Never give up if it is your dream. It's never too late. But be aware of how demanding this profession is and how hard the pathway to it is, you need to be prepared to work hard." 
Thank you Louise, we wish you the very best!