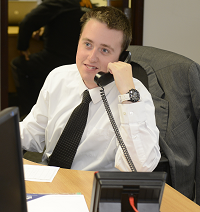 Lee studied his Level 3 BTEC in IT at Lincoln College. Now a Service Administrator, he spoke to our Alumni Team about his experiences of college and how his job lets him enjoy the important things in life.
"I always knew that I wanted a typical 9 to 5 office job so I have a social life at the weekends and can continue my passion of sport (Doncaster Rovers, and watching football and Formula One)," he said. "When I left college I had no idea what kind of industry or career I wanted to do, as long as it had computer work in it and where I could help the office with technical issues too. I also wanted an element of sales as I enjoy speaking to people and the buzz of getting a job or a quote accepted and making money, so I knew I wanted that too.
"I have had many career highlights and proud moments," said Lee. "I'd say the main ones consist of juggling what I do now and keeping over 100 customers happy, plus machines running alongside the engineers and the service co-ordinators and managers."
Lee has had several successful roles since leaving Lincoln College. After completing his BTEC in IT, he took a gap year, before completing an apprenticeship in Business Administration Level 2. It was after this that he was taken on at Work Window as a Trainee Recruitment Consultant.
"My proudest career moment was probably at Work Window, when against the odds we kept the company going for over a year when it was looking very bleak and me and my manager, who was the MD, just the two of us managed to become the only supplier for a very big client over in Saudi Arabia and managed to place one of the biggest roles in the industry at the time."
Lee then decided to do another apprenticeship to get his Level 3 in Business Administration. This led to him achieving his current role as Service Administrator for Moody Direct Ltd.
"My ultimate career goal is to become an Office Manager or possibly a Sales Manager based in the office," said Lee.
Lee has learned a lot during his career so far, and finally had some advice to share to with others hoping to follow the same path:
"Work hard in your studies to the best of your ability," he said. "Get yourself organised and find a system that works for you and get some experience under your belt! My strategy would be to look for a company you are interested in working for, and keep asking the for opportunities."
Thanks Lee, we wish you all the best!