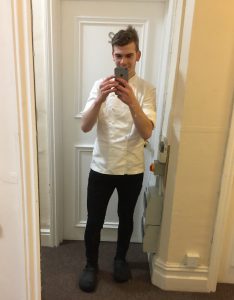 Aaron Mears studied Professional Cookery Level 2 at Lincoln College. Now a Commis Chef at Midsummer House, our former student gave our Alumni team an honest and passionate account of the life of a chef and what it really takes to make it in the food industry.
If you're considering a career as a chef, you should be reading this.
"Being accepted to work at such a prestigious restaurant has been the highlight of my career so far," said Aaron. "It's the sixth best restaurant in the UK, so to get offered a job there straight from college filled me with monumental pride."
Aaron is on the first rung of the ladder to becoming a chef and he has big plans for the future. "In five years time I'm hoping to see myself elevated within the ranks at Midsummer House or working elsewhere with equal or more esteem than my current restaurant. My ultimate career goal would be to have my own restaurant that could potentially rival Daniel Clifford's Midsummer house," he said.
Aaron admits that life in the restaurant can be tough.
"The hours, the stress and the aggression in the kitchen can be a challenge," he said. "As a whole all the chefs on average work 17 hours a day , very rarely getting a break. This in itself brings stress on the body but then the additional stress of wanting everything you produce to be better than perfect brings its own burdens.
The Professional Cookery course at Lincoln College helped prepare him by giving him the skills and knowledge in food preparation, service, menu design and costing he needs in order to succeed in a fine dining environment.
"My final word of advice would be to give chefing absolutely every ounce of your effort and passion, every minute of the day, seven days a week. To succeed at such a high level you have to be single-mindedly focused on your job even on days off. Chefing at this level is no longer a job or a passion it has to be you lifeblood and soul.