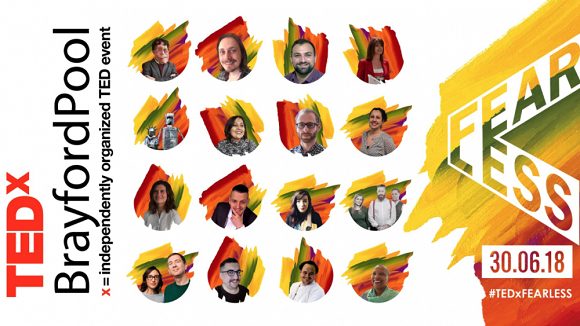 The College will host TEDxBrayfordPool's 'Fearless' event on Saturday 30 June 2018.
'Fearless' poses the question 'What could we accomplish if we fear less?' and hopes to explore this through a series of engaging speeches and performances.
Speakers will be discussing topics including mental health, gender, race, religion, the environment, plus many more.
The line-up includes award-winning campaigner, actor and presenter, Adam Pearson best known for his BBC documentaries.
Local artists and musicians will also be performing at the event.
Production arts students from the College will be assisting the TEDxBrayfordPool team in the setting up and running of the event as part of their work experience module.
Production Arts Lecturer, Howell Thomas said: "We're really pleased to be working with the internationally renowned TEDx talks this year.
"Our production arts students will be able to gain great insight into the challenging world of conferencing and corporate events management and design.
"At Lincoln College we're determined to provide the best employer-led and industry focussed experiences for our students to progress.
"This opportunity gives our students greater understanding and confidence through practical work experience."
Curator of TEDxBrayfordPool, Andy Farenden said "We're really pleased to call Lincoln College our home for TEDxBrayfordPool and TEDxYouth@BrayfordPool this year.
"We're exited to work with the staff and students to produce both events, and to really showcase the phenomenal 'ideas worth spreading' from Lincoln and Lincolnshire."
Tickets for the talks go on sale on Friday 1 June. Purchase your tickets and check out the full line-up here.
Interested in studying production arts at Lincoln College? Email enquiries@lincolncollege.ac.uk or call 030 030 32435 for more information.