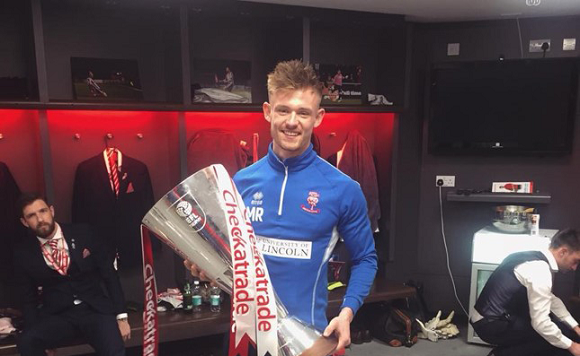 Mat Rudd talks of how Lincoln College set him up on the path to his dream career.
Mat studied the Level 3 Extended Diploma in Sport before going on to attend Leeds Beckett University to study a BSc (Hons) Sport and Exercise Therapy.
He is currently studying his master's degree in physiotherapy at the University of Lincoln, alongside working for Lincoln City Football Club as a Sports Therapist.
Sport Lecturer Andrew McGill said "It was great to see Mat walking up the famous Wembley steps as part of the Sports Medicine Team at Lincoln City. It's an amazing feeling to know we've helped him on his journey."
Mat said "The support I received at Lincoln College was superb. Throughout the course, I was given excellent guidance on all the ways the course could help in the future, what different avenues I could go down and how I could achieve the things I wanted to.
"At the time, I was very interested in joining the RAF as a Physical Training Instructor. The tutors helped me organise work experience explore what that role entailed.
"While it wasn't until the end of clearing that I decided university was for me, I was given a great reference and all the help I needed to secure my place at my chosen university.
"I feel like going to college helped me become independent. Carrying the responsibility for your own education is a key-skill that directly applies to university life.
"I also loved the practical nature of my course, learning things in a hands-on way is effective for me and the course certainly met that criteria. The assessment style was important for me too, as I preferred to be completing course work year-round than solely exams.
"The course is actually what sparked my interest in becoming a sports therapist. Completing modules based on sports injuries, physiology and sports massage, led to a greater interest in how to treat injuries in a sporting context.
"Another good thing about the course was the range of modules we completed – from analysis of sports performance to sports coaching, both professions within sport on their own, and so gave great scope to specialise in most areas of the sporting industry.
During his time at university, Mat volunteered his time at other big-name sports clubs such as Yorkshire Carnegie, Leeds Rhinos and Bradford City, working as a Sports Therapist.
"I managed to land my role at Lincoln City not long after graduating by sending a message to the head of Sports Science and Medicine, Mike Hine on LinkedIn.
"I messaged him saying how keen I was to come in and learn and to make sure I was using this time to become a good therapist.
"My favourite thing about working at Lincoln City is the people – spending every day with a very driven, ambitious and well educated team all working towards a common goal is a great thing no matter what industry you work in.
"My colleagues and the players – all the way from the under 9's right through to the first team are great. I love having the ability to have an impact on people every day who are grateful, being able to control how you spend your working day, and match days.
"Over 9,000 fans come to watch the first team play on a Saturday which is an unbelievable thing to see and be a part of – and of course the experiences that come with the job.
"Going to Wembley was mind blowing. To be able to say I lifted a trophy on the Royal Balcony at Wembley Stadium is something very special to me and not many can say that they've done that – hopefully there'll many more days like that to come for all of us involved with the club."
Fancy following in Mat's footsteps? You can check out our range of sports courses here.